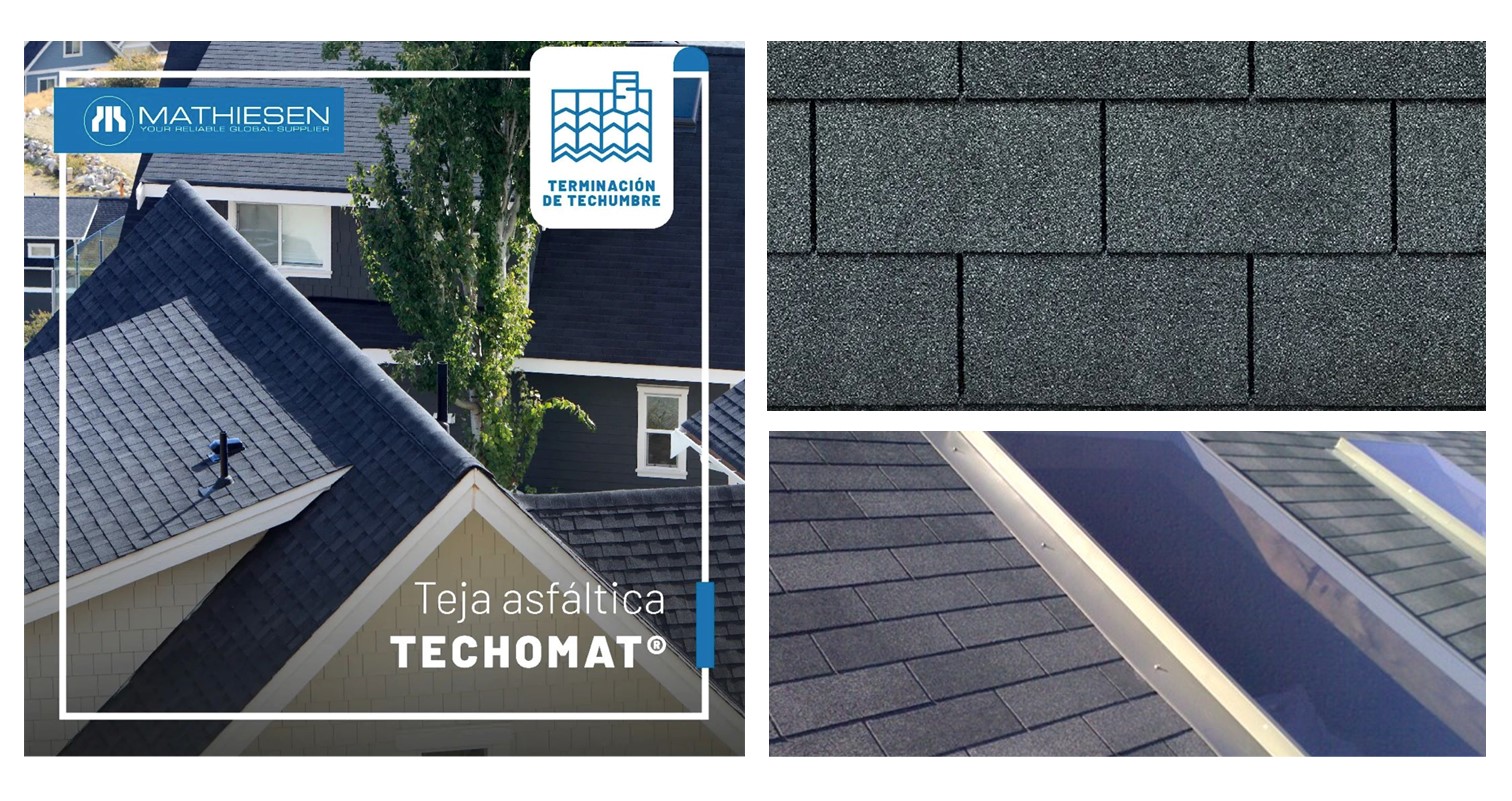 Solutions for residential pitched roofs – asphalt shingles
Asphalt shingles are a solution for pitched roofs widely used in several countries. Its unique characteristics provide benefits such as high durability, no fading, adaptability to extreme hot and cold climates, attractive architectural design with diverse colors available, and easy installation.
It is a lightweight product that offers high protection against extreme weather changes, such as resistance to moisture, fire, wind and even algae formation, while retaining its appearance for years.
Depending on the quality of your asphalt shingles, given their resistance, they do not require constant maintenance.
Thanks to their format, they adapt to all types of roof geometries and shapes, with easy installation on single and gable roofs with an inclined surface from 12º.
Mathiesen has developed TECHOMAT,® an asphalt tile of high aesthetic value used as a final roof finish, manufactured from reinforced asphalts and basalt granules of various shades, which provide depth and texture to the roof finish. In addition, it is reinforced by a fiberglass mantle.
TECHOMAT® is highly resistant to temperature variations, acting in ranges from -70°C to +80°С.
TECHOMAT® is easy to install, thanks to its self-adhesive asphalt layer at the bottom that offers a secure union between the tiles. It adapts any architectural style and delivers a unique look to your project.
It is recommended as a complementary product to install on MATWRAP® C110, a waterproof and breathable water-repellent membrane used as a moisture barrier.
Available in diverse colors.
Each package has tile units (1000mm x 333mm) that can cover up to 3 m2.
It has a 20-year warranty.
For more information: http://www.construccionmathiesen.cl/productos/tejas-asfalticas-techomat/