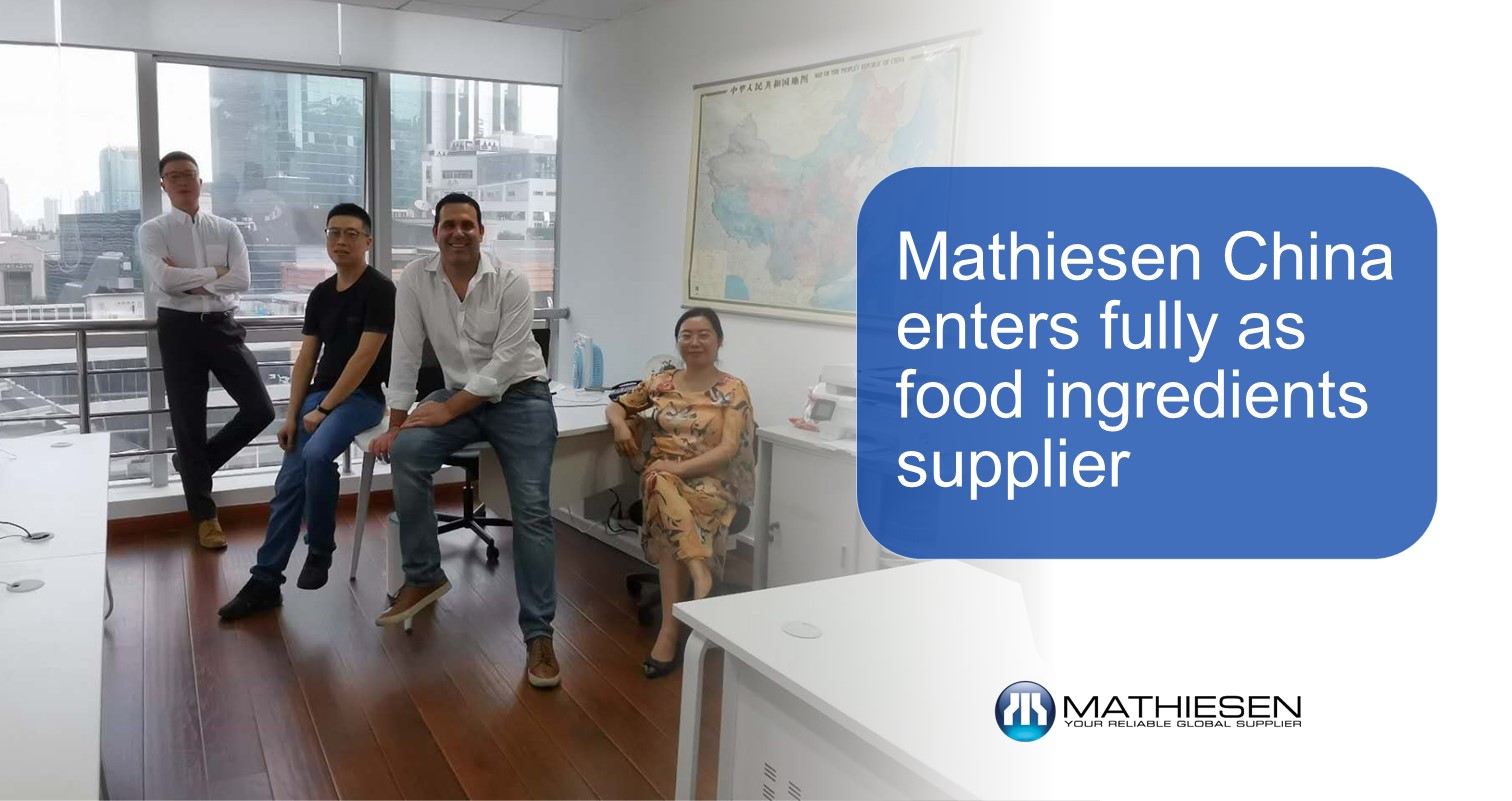 Mathiesen China enters fully into the food business
Starting in March 2022, Mathiesen China will reinforce its focus on the development of suppliers around food ingredients, supplying in the first stage the offices of Chile, Argentina, Peru, Bolivia, and Paraguay and in the second stage, the supply will extend to Ecuador, Uruguay, Colombia, Central America, and Mexico.
Mathiesen China's objective for the first half of 2022 is to have a supplier database of 55 ingredients for the different areas of work.
The project includes business development in the areas of thickeners, antioxidants, preservatives, sweeteners, acidulants, proteins, phosphates, flavors, and other nutritional ingredients.
So far, in 2022, purchases of xantan gum, palmitates, BHT, and sucralose have already been made to meet the requirements of key customers in Chile and Argentina.
Food Supplier Selection Criteria
Our suppliers are in different provinces of China, such as Mongolia, Guangdong, Shangdong, Zhejiang, Jiangsu, and others. The suppliers that Mathiesen China is working with have the highest quality standards, where the minimum requirements requested for suppliers are:
To have all their certifications and documentation up to date.
Nutritional information.
Safety sheets.
Flow chart.
Microbiological analysis.
Heavy metal analysis.
Pesticide analysis.
Non-GMO declaration.
Allergen statement.
Plant quality declarations (BRC, FSCC, GFSI, HACCP, and iso 22000).
Halal and Kosher certifications.
Vegetarian or vegan product application claims.
China's food ingredient manufacturing industry is also growing steadily due to the rise of products more in line with a healthy diet in the local market. Chinese consumers are more aware of healthy eating habits and have greater purchasing power, leading food ingredient suppliers to raise their quality and health standards, in some cases even buying or merging with foreign health food companies, to better meet growing local demands and also to enter international markets with high quality "made in China" products. This trend leads to a more complete and competitive manufacturing market, both locally and globally.
Mathiesen, with its office in Shanghai, is focused on this new trend and intends to develop a deep business relationship with the best positioned Chinese manufacturers in terms of quality and competitiveness, to offer their products to our important customers throughout the Latin American region.